Compared with the Golden/White South Sea Pearl, there are too many types PSL certificates of Tahitian black pearl ! ! !
First of all, let's make it clear that although the pearls produced by Tahiti are called "black pearls", the color system of black pearl is actually very rich.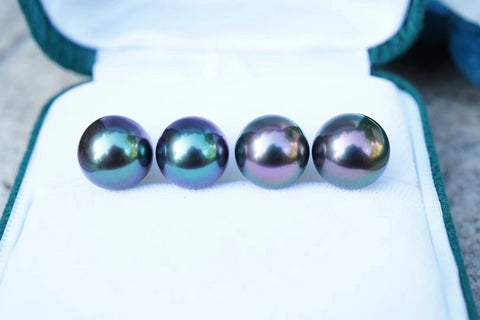 Although they're known for their distinct dark range of colors, even black Tahitian pearls are not actually black. They are are instead silver, charcoal or a multitude of colors, with the dominant color being green. An often sought-after color is "peacock green" – the greenish black color of a peacock feather. Truly black pearls are among the most beautiful pearls in the world and are extremely rare. Usually, the darker the color, the more valuable the pearl. They typically have more of a drop shape than a round shape and vary in size from 8 to 18 mm. 
The body color is usually enriched by at least one overtone. The Tahiti pearls considered most exquisite also have a peacock green overtone. You can expect to pay twice the price (of a solid black pearl) for those with this greenish luster. Other desirable overtone colors are blue, silver, gold, pink and aubergine.

Therefore, pearls from in Tahiti are collectively referred to as "black pearls" or "black Tahitian pearls", but we must know that Tahitian pearls are not just black!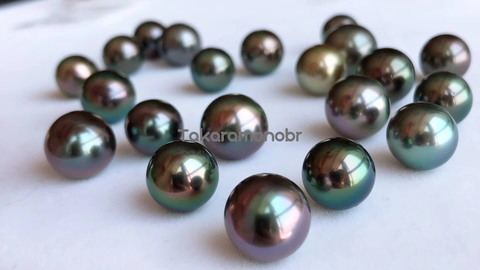 The most common color in Tahitian black pearls are dark green which is commercially known as "peacock green".
Pearl Science Laboratory named the highest quality "peacock green" in black pearls as "Aurora Lagoon".
Literally means a lagoon, a lake formed by coral reefs in the ocean.
The name means that the pearl layer of black pearl is rich in green pigment, which is very strong and makes the pearl show green color, just like the lagoon in the sea.
Only roundness and blemish meet the best standards can be assessed as a Lagoon.

Here attached a typical Lagoon-grade black pearl, why is it so typical? Because of its unique color!
👇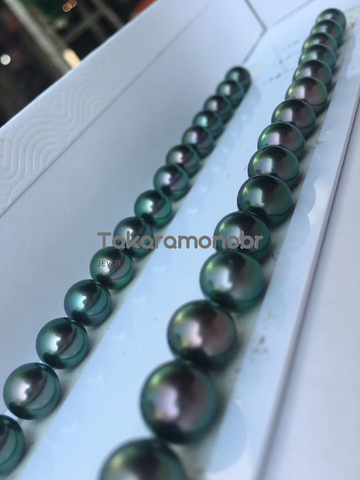 Here attached certificate of Aurora Lagoon, both in Japanese and English.
👇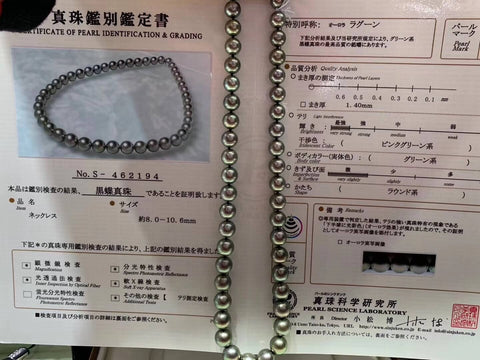 Everyone should be familiar with the contents of the certificate, just pay attention to a few points:

1. Special Appellation on the right side of the certificate: Aurora Lagoon. It is the category of the highest quality of black lipped cultured pearls.
2. Brightness: Very strongest
3. Body color: Green
4. Aurora image in remarks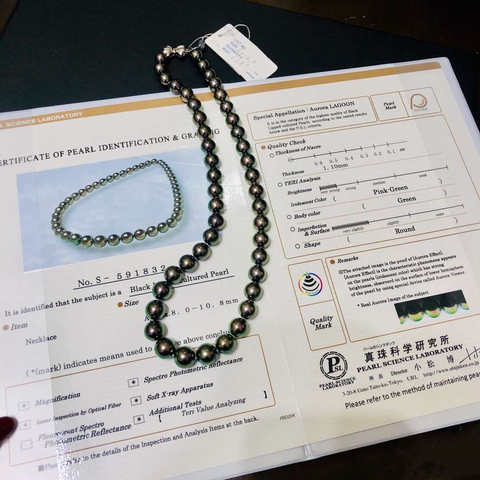 You can see there are no red tones or very weak red tones in the middle of the pearls.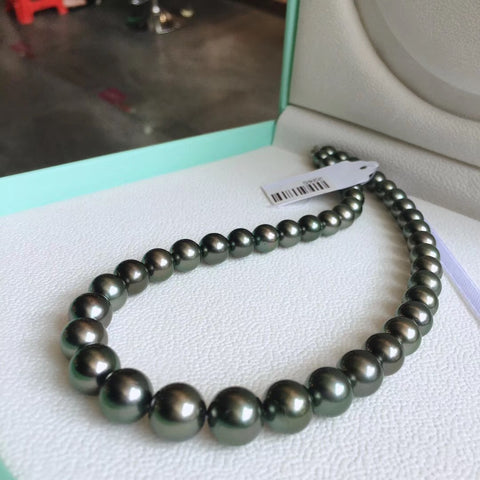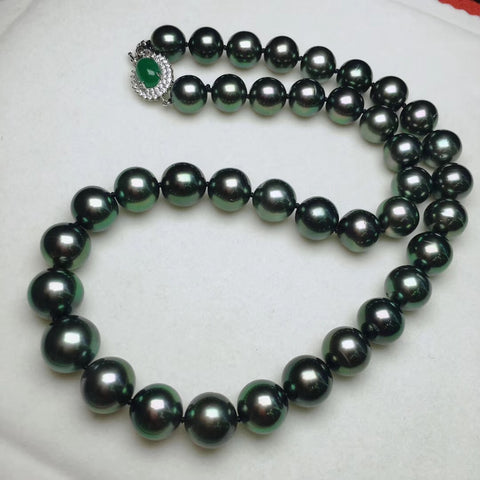 Compared with black pearls with obvious red and green overtones, Pearls with green tones are much cheaper. But which overtones of black pearl are more popular? The most expensive not necessarily are the best.

The color and luster of each black pearl is different, sometimes the cheap all-green overtones are more beautiful.
In addition to necklaces, other loose pearls and finished products can also issue Lagoon certificates. 👇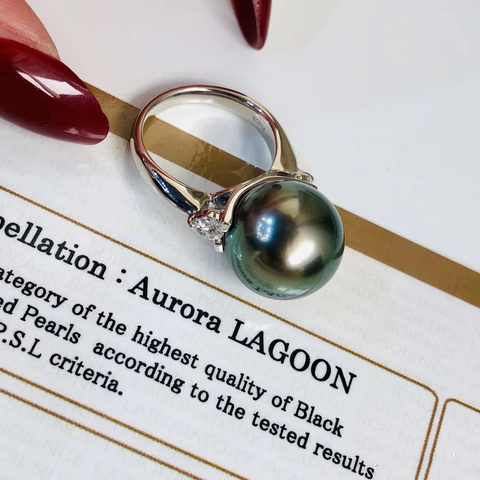 One last thing, Lagoon is not necessarily with very green overtones~
One of the most important thing that can be evaluated as Lagoon is the surface blemishes, not overtones.
Even if the black pearl has inconspicuous peacock green overtones, but with very slightly blemishes and high luster, they also can be evaluated as Lagoon. 👇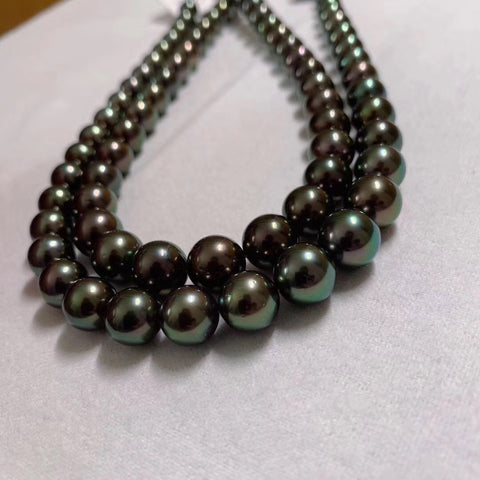 The second grade of black pearls with peacock green overtones are called "Aurora Peacock".
There is a higher level in "Aurora Peacock" called "Aurora Peacock MAX".
Due to the very strong peacock green color, Pearl Science Laboratory has added an "MAX" after the name "Aurora Peacock", in order to distinguish the general "Aurora Peacock".
At the same time, a note was added below the aurora image, "Aurora Peacock MAX" is a specific name for the gloss intensity to reach the top.
In practice, there are very few strands can be rated as "Aurora Peacock MAX". To be sure, there are fewer than Lagoon.
Lagoon may not be green, but "Aurora Peacock Green MAX" must be green tones.

👇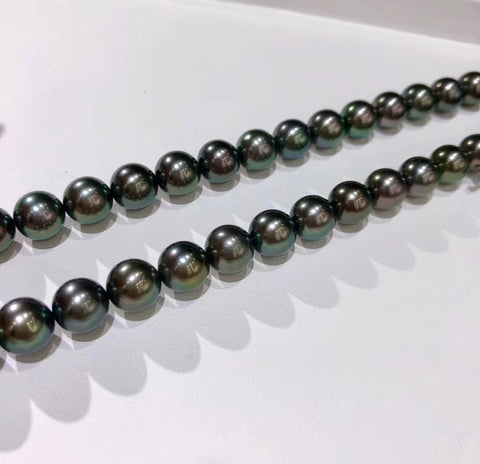 Now comes a key question, is there "Aurora Peacock" that is not green strands
The answer is Yes, quite a lot. There are a lot of "Aurora Peacock" strands are not green, of course the price is always bargain.
Such quality of "Aurora Peacock", although also have Pear l Science Laboratory certificate, but they only a few thousand dollars of each strand.

"Aurora Peacock" 👇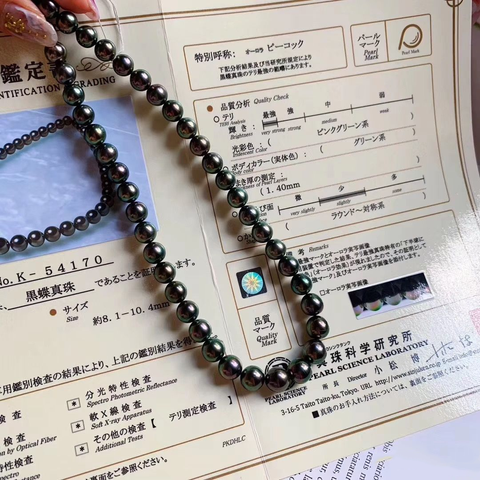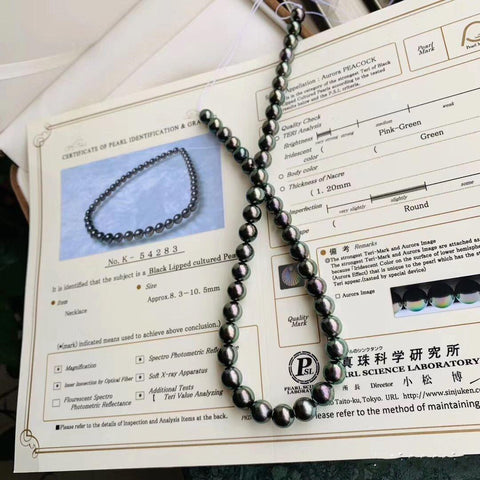 Certificates are not the only standard for measuring quality. Different quality, different prices. You get what you pay for.