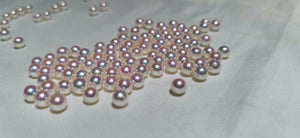 Top Grade Pearl Jewelry
Pearls are dignified, mellow and colorful. Elegant and pure, known as the queen of gems, the international gem industry lists pearls as a lucky stone for the birth of June, a memorial stone for the 13th and 30th wedding anniversary. Pearls with magnificent colors and elegant temperament symbolize health, purity, wealth and happiness.
All pearls, K gold, diamonds and various types of gemstones from TAKARAMONOBR are supported by regular inspection institutions.
TAKARAMONOBR only sells high-quality seawater pearls. However, the pearls grow naturally in the natural environment, and they are not completely flawless in the artificial sense. In the case of ensuring gloss and color, we will try to choose relatively flawless high-quality pearls. Each one will be screened and matched all-around, and the quality of pearls is almost comparable to MIKOMOTO/TASAKI.
Although we have always adhered to strict screening standards, we still cannot guarantee zero defects and water ripples. Customers with perfectionism are advised to purchase carefully, or contact customer service to watch the video before making a decision.
Shop Our Featured Pieces!
---